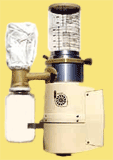 SAMAP F50

SAMAP F100
SAMAP F50

SAMAP F100
These
SAMAP Electric Grain Mills
are robust, practical and make an ideal family grain mill. They can be used to produce fine flour, including wheat flour, rice flour, rye flour, barley flour, buckwheat flour, millet flour and all gluten free flours.
It is suitable for any dry and non-oily grain - from the smallest like millet to the largest like maize or beans.
Flour produced by SAMAP Electric Grain Mills are suitable for breadmakers. Price(s) listed on this page are valid only for payments by cheque or direct credit. Credit card payments will incur an additional 3.75% fee — this is the fee credit card companies charge us for credit card payments over the Internet or telephone.
Note: A freight surcharge will apply to New Zealand Rural Delivery (RD) customers.
•
Click to show additional information …
•
More on Mills …
Specifications:

F50
F100

Height:

46cm
49cm

Base:

20cm round
20×30cm

Shipping Weight:

10kg
15kg

Millstones:

100mm diameter
100mm diameter

Grain Size:

Up to Wheat
Up to maize/beans

Motor:

350W by 240V
700W by 240V

Output (fine setting):

100g/minute or 6kg/hour
200g/minute or 12kg/hour

Warranty:

2 years on motor & milling parts
5 years on motor & milling parts
Note: specified outputs for grain at 10% moisture content.