Gentle detox, prebiotic source, liver cleanse, blood purifier, inulin, diabetes, anti-inflammatory, loss of appetite, digestive, improving bowel function, kidneys, diuretic, antioxidants, vermifugal, all these words are associated with the three plants on this page: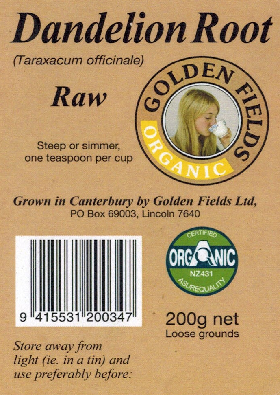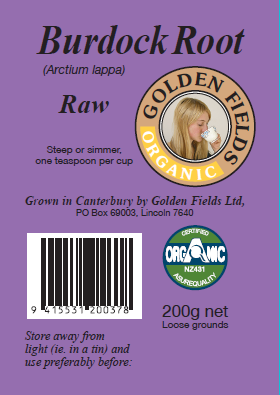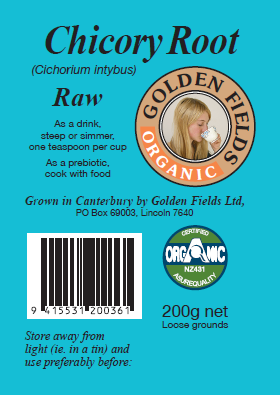 These roots will be used as herbal teas. A decoction has to be made. The dandelion roots, the burdock roots or a combination of both will make a very fine brew with not much bitterness at all. It is a tad syrupy, reflecting the nutritious side of it. The chicory root decoction on the other side is rather bitter. One can start a detox cure by taking daily 3 cups of decoction for 10 days.
All the three roots are very rich in inulin, topped by the chicory root (up to 60% inulin), then burdock (up to 40% inulin) and dandelion (up to 40% inulin). Full advantage of the inulin content is obtained in adding powder of these roots to our food. Inulin is heat sensitive. There is some left when cooked but the roasting will caramelize most of it.
In addition to the dandelion roots, dandelion leaves are also available. The leaves and the roots can be used together to make a tea of the complete plant. Please see the directions below, explaining to do a decoction of the roots first and the infusion of whole plant after. Our DANDELION 100% coffee began with the same idea but the decoction first is not necessary because after roasting, a great deal of the root is solubilised.
Directions: Decoction of the roots; 15 to 30g per Litre (1 to 2 tablespoons per litre). Simmer 5 minutes in a covered pot. Remove from the heat and steep 10-15 minutes. Strain and enjoy.
Leaves are infused in near-boiling water for 10-15 minutes. Leaves can also be added to the decoction above after it is removed from the heat. In this case use a lesser quantity of grounds for the decoction
In order to benefit from the inulin content of the roots, best to use powdered root and add a teaspoon of it to food. The grounds in the packets are coarse and should be processed further in a small coffee grinder.